HP OmniGo 100 Specifications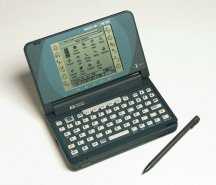 Ordering number: HP F1310A (1MB RAM)
Built-in Software
Personal Information Management
Appointment book
Phonebook
Notepad
Database
Worldtime
Stopwatch
Jotter
Geoworks Book Reader
Financial Functions
Financial tools (Solver, Plot, etc.)
Spreadsheet
HP 12C Financial Calculator Emulator
Pen Interface
Graffitti Handwriting System
GEOS Operating System
Miscellaneous
Games
Keyboard Features
Familiar QWERTY Layout
Five Function Keys
Pen capability
Navigate or launch applications
Draw pictures
Write text using Graffiti
Drag and drop items, select data for cut, copy and paste
Key Features
View the screen in different orientations, or flip the keyboard behind the screen, it adapts to any workstyle!
Move Jotter pages to an application in which you want notes.
Jot notes, draw pictures, and make maps directly on the screen.
Enter data easily by pen or keyboard. The Graffiti hand writing recognition system is easy to learn and use.
Drag and drop appointments and to-do items. Rearranging your schedule is a breeze.
Calculate with advanced financial functions and the built-in, emulated HP 12C financial calculator.
Create sophisticated spreadsheets.
Expand by adding SRAM cards for additional storage. Connect to PCs, printers and more with optional HP and third party accessories, software and services.
You can use a pen or the keyboard to enter data. The screen can be viewed in both landscape and portrait modes.
Physical Specifications
Size: 15.3 x 9.5 x 2.6 cm (6 X 3.7 x 1 in)
Weight: 329g (11.6 oz) with batteries
Memory
3 MB ROM, 1 MB RAM
PCMCIA Type II card slot
Read and write to SRAM memory cards (flash cards drain batteries)
Display
FSTN LCD with Touchscreen
240 x 240 pixels
Up to 15 rows, 30 to 50 columns
Central Processing Unit
80186-compatible, 16-bit CPU running at 16 MHz
Input/Output
Built-in 10-wire serial interface for connection to RS-232C devices
Built-in printer drivers supporting these printer types: HP LaserJet, HP DeskJet, Epson 24-pin, IBM Proprinter, 48-jet Canon BubbleJet*
Using parallel printers require serial/parallel adapter
PCMCIA Type II plug-in card slot for running external applications and expanding storage memory with SRAM cards
Power
Two 1.5 AA main batteries (Lithium or Alkaline)
One 3-V CR2032 coin cell backup battery
Essential add-ons for the OmniGo 100
The PC Connectivity Pack gives you automated file management, back up, and synchronization between your OmniGo 100 and a Windows(R)-based PC.
Clip & Go, developed by Geoworks, is the smart, fast and easy way to transfer data from a Windows-based PC to your OmniGo 100. Or vice versa.
Strategy Games, created by Geoworks, gives you six challenging games and hours of brain-teasing entertainment.
Serial Cables and Connectors are the convenient way to connect the OmniGo 100 to printers, modems, and PCs. The Cable and Connector includes a 4- to 10-pin connector and serial cable, while the Connector/Adapter Kit includes connectivity to four connectors for different devices.
The HP 12C Owners Handbook describes in detail all the features of the HP 12C financial calculator.
Product Numbers
HP OmniGo 100 PC Connectivity Pack HP F1311A, Option ABA
HP OmniGo 100 Clip & Go HP F1312A
HP OmniGo 100 Strategy Games HP F1313A
HP OmniGo 100 Cable & Connector HP F1015A
HP OmniGo 100 PC Connector/Adapter for HP Palmtop PCs & OmniGo 100 HP F1023A
HP OmniGo 100 Pens (three-pack) HP F1314A
HP 12C Owners Handbook and Problem Solving Guide 00012-90001
Source: Geoworks Home Page
---
Back