Brother GeoBook
---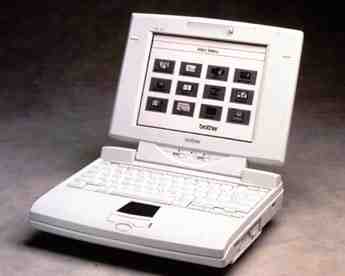 Special Features:

Easy to use menu icons allow you to quickly access every important feature.
Display: Geobook 9.4" monochrome backlit VGA display with 16 shades of gray SuperPowerNote 640 x200 dpi CGA LCD display.
32 bit processor
GEOS 3.0 operating system
GlidePad pointing device
1 serial port and 1 parallel port
Standard 3.5" 1.44 Mb floppy disk drive
Can be connected to most printers** (laser, ink jet, dot matrix, etc.)
Memory: Geobook memory PC card slot (Type II) SuperPowerNote 2Mb RAM
AC adapter included (BA4000 NiCd batteries optional)
Unit dimensions: 11.7" x 2.4" x 9.7"
Unit weight: 5.0 lbs.

BrotherWorks 98 Software Features:

Word Processing
Spreadsheet
Drawing
Addressbook
Internet*
Planner/Calendar
Games
To Do List
Communications
Book Reader
E-mail*

Other Features:

Graphic clip art images
Import BMP, TIFF, GIF, and PCS graphic file formats
Import/export files to a PC
Solitaire and Turnabout games
Book Reader files on disk

Optional Communications Features (Data/Fax modem #FX336 required):

TCP/IP connection to the Internet
Non-graphics web browser for text-only viewing of the World Wide Web*
Send fax capabilities
Send and receive Internet e-mail*

* Optional modem and Internet service subscription required
** Windows only printers will not work with PN9000GR

For more information, call Brother's fax-back system at 1-800-521-2846 or visit www.brother.com

For customer service, please call Brother at 1-800-284-1937.
Source: www.geoworks.com
---
Back